#THEELSPETHINFLUENCE
MISSION STATEMENT: USING FASHION TO BROADCAST INDIVIDUALITY IS ACCESSIBLE TO EVERYONE.

I make button-down blouses into skirts. I turn scarves into crop tops. I can even morph your typical a-line skirt into a flowing blouse......which I love to twirl in. Fashion is about creativity, and that's why I dig it.
Fashion is powerful. I use the clothing I wear to give the world a preview of my personality. Using my clothing to help me look different than others gives me confidence. It can give you confidence too, I promise. You don't have to be filthy rich or model thin to wear a creative outfit that makes you feel fantastic. Trust me, I thrift shop and eat cookie dough.
I get the raw materials for my #ootd ensembles from all over the place: mainly the local thrift shop, but also
asos.com,
the mall, and the occasional boutique.
Readers, I hope to inspire you to wear what you want to wear and to do what you want to do -all with confidence. That's what I do, so follow me on my journey.
PEACE OUT,
​
Elspeth
Powered by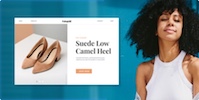 Create your own unique website with customizable templates.