Modeling for Quarter Moon Imports was such a win-win situation: they wanted a model, and we all know how much I love styling outfits, hanging out with cool people, and of course, being photographed....
Quarter Moon is a local boutique selling eclectic and bohemian fair-trade goods and clothing. Visit their social media for more photos from our shoot, and visit their store for unique and elegant pieces!​
Personal Recommendation:
I absolutely love Quarter Moon's jewelry sales. I have found many beautiful hamsa-palm necklaces and other statement pieces for only $5 each. (keep in mind folks, most thrift stores charge about $3 for necklaces, so Quarter Moon is giving a great deal. Think about it: you're finding new, in-style, fair-trade jewelry AND you're supporting a local business. That's pretty awesome, don't you think?)
Powered by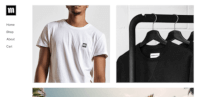 Create your own unique website with customizable templates.