To share my love of using fashion as means of self-expression and broadcasting individuality, I started a fashion interest group, or Style Society at my school. My plans for the club involve visiting local thrift stores, having multiple outfit photoshoots, and using social media to document our stylish outfits and our message. I plan to incorporate elements of design and charity by creating a sock design contest with all sock proceeds benefiting our school's Children's Miracle Network Dance Marathon chapter. Also, around Christmastime, all of our society members will donate unwanted clothing to the society to create a massive clothing pool. Members will pay $5 for access to the pool and take whatever clothes they want. All proceeds and leftover clothes will go to my favorite locally run thrift store which benefits the Tallahassee homeless community.
The main goal of the society is to encourage its members to step outside their comfort zones and wear clothing that they feel expresses their own personalities while receiving positive encouragement from others. Fashion is important to me because the way I dress affects the way I feel on a daily basis; for instance, wearing my vintage structured blazer to give a presentation on the different zones of lakes made me feel powerful addressing my science class. Wearing unique, thrifted clothing helps me broadcast my personality to the world, feel more confident, and communicate the idea of the importance of individuality. By simply dressing differently than others, I communicate originality and reveal that I am an approachable, open person who welcomes new perspectives. Fashion isn't about conforming to the standards of appearance set by other people; it's about showing that I have my own personality through the unique clothes I wear. Maclay Style Society was created for me to broadcast this message and encourage others to have the confidence to where whatever they want, regardless of society's standards, and not be afraid to show the world their true personalities.


Powered by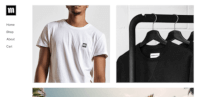 Create your own unique website with customizable templates.