All I ever buy is occasion wear – dramatic earrings, flashy high heels, suit pants, silk midi dresses – which I then end up wearing to the dentist because I don't have that many occasions in my life.
But why not make life the occasion?

-Claire Beerman
Man Repeller
There's always been something about the sporty, retro nature of the Lacoste brand that just gets me. I love it. I want to recreate it without actually spending $ 100 on the website for just one item because we all know there is no way that that is happening. I will recreate it, and I will look like i'm going to play tennis in the 80s when i'm really just going to class.

I hope that one day I'll stop being so cheap and actually buy some of this art because I think it is so sooooooooo cool.
Gucci PreFall 2018
I found a bright red blazer very similar to this at this tiny church run thrift store in the middle of no where for 33 cents, and I CANNOT WAIT TO WEAR IT. IT ALSO HAS POCKETS SO I CAN WEAR IT IN THE WINTER WITHOUT MY HANDS GETTING COLD.
Gucci Dapper Dan & Dapper Dan Originals
Here's Eric B and Rakim wearing the jackets Dapper Dan designed for them that are featured on their second album cover.
I'd like to take a minute to point out that the
Follow The Leader
Album is fantastic. I had never listened to 80s hip hop before, and i found that this is the PERFECT peppy beat for my suburban powerwalks. I cannot wait to force my dad to listen to this on our drive back to college !!!!!!!!!!!!!
Harling Ross's interpretation of Brad Pitt's 90s Style
" I love approaching style inspiration as a feeling instead of a strict guideline. I don't have to copy something exactly or purchase the precise thing to experience an aesthetic thrill. Maybe everything I need is already in my closet. Maybe my version of khaki shorts is a wisp of a skirt with slits as high as the Chrysler building. As long as whatever I'm wearing mentally transports me to [the source of my inspiration], I know I'm onto something. "
​
-Harling Ross, Man Repeller
Body Confidence movement
Powered by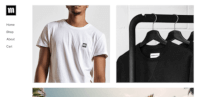 Create your own unique website with customizable templates.